Salesforce is the world's leading CRM software, offering the very best apps for every stage of the customer journey, from lead to loyalty. MusQueteer has experienced Salesforce implementation experts in-house to help you implement Salesforce for your organization. To help your organization grow and get the most out of Salesforce, we'd like to introduce you and your employees to the online learning platform: Salesforce Trailhead. Trailhead is the ultimate place to expand your Salesforce knowledge and take your career to new heights.
Trailhead is a free online training platform from (and developed by) Salesforce. Whether you're an absolute beginner or a seasoned professional, training is personalized based on your position and your level of proficiency. Trailhead makes complex topics easy to understand by offering content in simple language and as bite-sized chunks.
Gamification is used to keep you motivated as you develop new skills. When you have completed the course material from a module, you take a multiple-choice test or complete a challenge to apply your new knowledge right away. And what makes it extra fun: every achievement you book is celebrated with badges, points and confetti! It feels like a game where you earn rewards while learning new things. This makes learning fun and keeps you motivated!
In addition to learning courses on a wide range of topics, Trailhead naturally offers extensive training in Salesforce skills. The demand for these skills has increased in recent years as more and more companies implement Salesforce technology to manage relationships with their customers.
Trailhead is made for anyone who wants to advance in this field. Whether you're a student just starting to explore the Salesforce world, a professional looking to expand your skills, or even an enthusiastic hobbyist who just wants to learn a little more. It doesn't matter if you already have coding experience or are completely new to the IT world. Trailhead offers courses for beginners, intermediate and experts so you can grow and learn at your own pace.
Trailhead also allows you to connect with a community of fellow Trailblazers. You can join forums and groups where you can interact with people who have the same interests as you. This opens the door to valuable networking opportunities and the chance to learn from others. It is nice to know that you are not alone in your quest for knowledge and that there are always others who can support and inspire you. Trailblazers are pioneers, innovators and people who never stop learning. These are the people who are innovating with Salesforce and using the platform to transform their business. They inspire others by constantly innovating. With Salesforce, everyone has access to training and equal opportunity. So anyone can be a Trailblazer!
It's free. This makes it accessible to anyone who wants to further their career in Salesforce. You can sign up on the Salesforce website(salesforce.com) or download the Trailhead GO app on your mobile. It can be found in the Playstore and Appstore.
Flexibility. You can learn anytime, anywhere because everything is available online. Whether you're on your way to work, sitting in a lunchroom or cozying up on the couch, you can always log on to Trailhead and start learning.
You learn important skills. At Trailhead, you will gain the knowledge you need to advance in your career or gain a position in the Salesforce ecosystem. No specific prior education is required.
You earn accreditations. Consider, for example, a Salesforce certificate for a particular position or a super badge after you've shown what you can do in practice. This way you can demonstrate your knowledge about Salesforce, which is obviously good for your resume and gives you a competitive advantage in the job market.
Our consultants and developers eagerly use Trailhead themselves. In addition to expanding their own Salesforce knowledge, they use Trailhead as a valuable resource for all their Salesforce-related questions. Sign up for free at https://trailhead.salesforce.com or download the Trailhead GO app from the Appstore or Playstore. And who knows, maybe our own musQueteer Trailblazers will see you back in the Salesforce community! If you would first like more information about Trailhead or Salesforce, please contact us.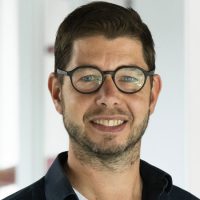 Want to learn more about Trailhead or what Salesforce can do for your business? If so, please feel free to contact Arnd Jan Prause, Founder and Consultant at musQueteer