The world's leading CRM software
Times have changed. Customers expect more from your company. With one central view of every customer, all your teams can continue to meet sky-high expectations regardless of their location. Deals close faster, marketing kicks in, customer service makes you smile more often, your customers' loyalty skyrockets, and your business grows and thrives.
Make your employees successful
Unite all your teams around the customer. Align sales, service, marketing, commerce, IT and analytics with one central information source for effective conversations and quick decision making wherever they are. Give everyone the tools to provide better customer experiences. Tools like Slack are also supported! Slack helps employees communicate more effectively with each other and use their apps optimally – anywhere. With Einstein AI, everyone can work more productively, show empathy and increase loyalty through better customer service. And our unique Trailhead training hub offers free fun learning tracks that help your employees gain essential skills.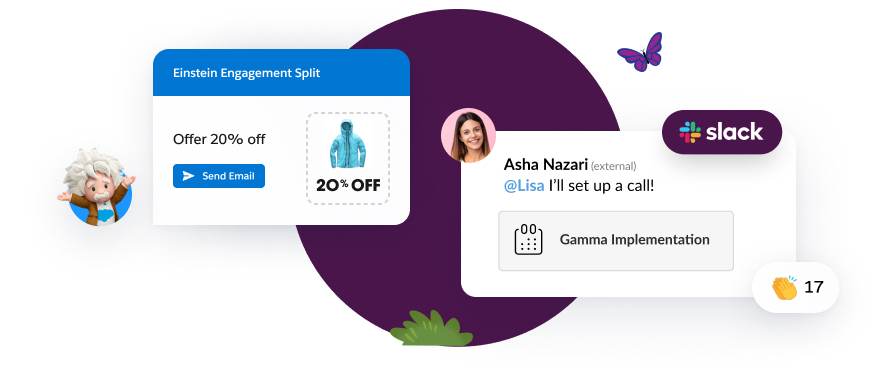 Get a jump start on CRM for Start-ups and Scale-ups!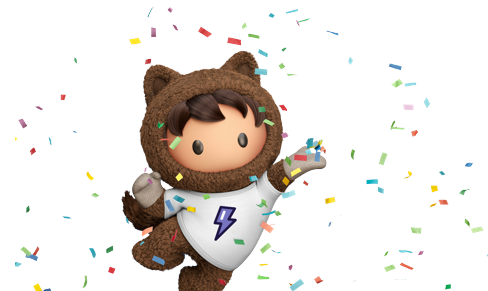 Do you have big plans for your Start-up or are you in the middle of Scale-up? Then start with the tools that large companies also use. Salesforce is the leading CRM on the planet, which is often thought to be only for the big boys and girls. But did you know that even small businesses with ambition can now get off to a dream start with CRM? Learn more about Salesforce Easy on our Start-up industry page!
Benefit from one central customer view. If you know your customers' history, interests and even frustrations, you can better tailor your approach to their needs. That way, they get a better impression of your brand. Salesforce offers the very best apps for every stage of the customer journey, from lead to loyalty. The more apps you add, the more it gives you.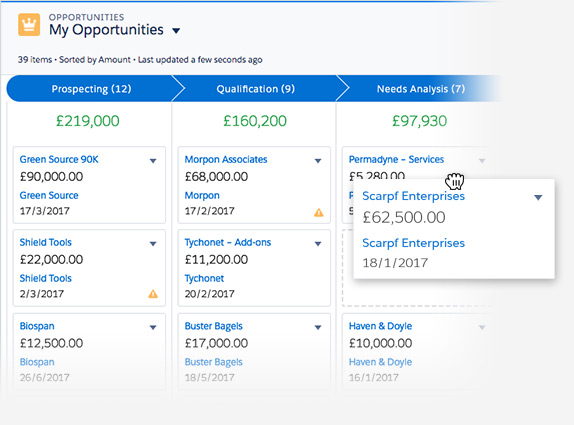 Successful selling, from any location.
This leading CRM solution takes sales automation to a new dimension with a full set of cloud-based tools. Tools that help your teams bring in more business, increase productivity and fill the pipeline with high-quality leads.
Increase your sales even faster with the world's leading CRM platform.
Streamline your processes and provide personalized, responsive customer service.
From call center software to self-service portals, Salesforce customer service solutions let you provide faster, intuitive and flexible customer service that even anticipates customer needs. Automation tools allow you to work more efficiently and respond faster to customer inquiries.
Surprise your customers with faster and more efficient customer service.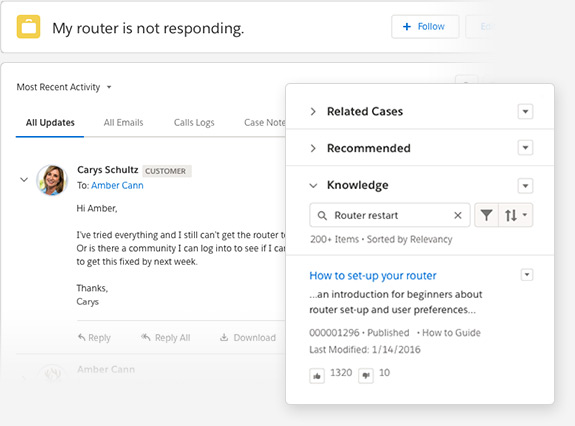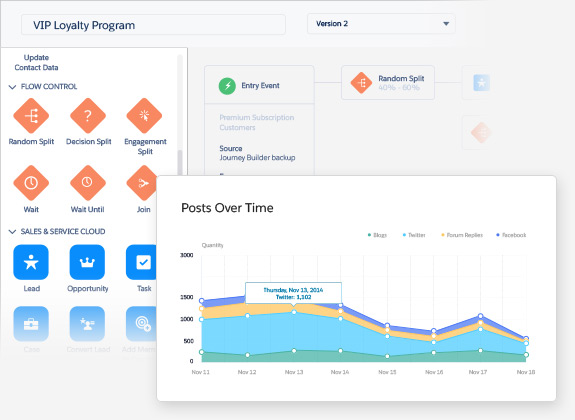 All marketing tools on one platform
Use every customer contact to strengthen relationships with your customers with personalized and cross-channel customer journeys through email, mobile, social media and other channels.
Plan and manage omnichannel campaigns with the world's most powerful digital marketing platform.
All of Salesforce's modules work seamlessly with each other. But of course, there are also times when it is necessary to link with external apps. Consider accounting software or ERP systems, for example. Our developers are able to connect your desired Salesforce modules to your existing systems, giving you the best of both worlds. This can be done using Salesforce Platform, which can be used to build apps in a few clicks. But our team is also well equipped for more complex integrations. For example, we develop with Ruby on Rails on the Heroku platform.
Ruby on Rails development
Ruby on Rails (Rails) is an open-source Web application framework written in the Ruby programming language. It is used by big names such as GitHub, Airbnb, Shopify, Zendesk and more. Rails-based web apps are robust, dynamic and more importantly – faster to build. This is also why Ruby on Rails is often the first choice for start-ups. Development time is often reduced by as much as 25-40%. Thanks to built-in modules (gems), rapidly realized development and simple syntax, we develop apps with Ruby on Rails lightning fast.
If an organization is looking for a digital solution or software application, but has no idea what technology to use, we recommend Ruby on Rails as the first choice. If the requirements are simple, scalable and fast, Ruby on Rails is a perfect fit.
In addition, Ruby on Rails is very secure. Our world is becoming increasingly digital and almost all data is accessible via the Internet. Therefore, Ruby aims to make web apps secure and avoid cyber attacks. Both server side and client side.
Salesforce is the world's leading CRM and is constantly innovating, making it a great platform to integrate apps with. With Rails, you have the flexibility to choose the tools and technologies that make the most sense for your project. Salesforce provides a robust set of APIs that allows you to use Salesforce's data and logic in your Ruby application.
Salesforce has its own Cloud platform, called Heroku, on which apps can be built (using the Ruby programming language, for example). Development on Heroku is made easy and deployment is super fast. The simplicity and ready-to-go setup makes Heroku very suitable for Start-ups/Scale-ups. But large organizations such as Toyota and Citrix also use Heroku. Heroku requires comparatively little computing power.
It is also possible to build on the AWS (Amazon Web Services) platform, but this requires some of the skills of the team that will work with it. For example, using AWS requires a dedicated DevOps engineer, but not at all with Heroku. AWS is therefore often too complex or labor-intensive for smaller companies. AWS is used by medium and large organizations, such as BMW Group and Airbnb.
Both Heroku and AWS are great platforms to develop on, but you need to have a good understanding of what functionality your organization needs and how much money you have to spend on it. You also need to know well what skills (especially DevOps) are available within the team when you start on AWS. The right platform for you is the one that helps you achieve your business goals and keep your developers productive. We are happy to advise on this. Please feel free to contact us.
Curious? Schedule a demo! No strings...
Salesforce offers endless opportunities to make your organization think better from the customer's perspective. We are happy to listen to your needs and show you what this could look like in practice. No obligations and you are guaranteed to learn something!
What are you waiting for? 😀