You can hardly avoid AI (Artificial Intelligence) anymore. A great recent example is OpenAI's ChatGPT chatbot, in which access to AI is becoming a little easier and more personal again. But AI is also increasingly being used in everyday applications. So too in Salesforce, where the AI feature is quite appropriately called "Einstein.
Salesforce Einstein is the first comprehensive AI feature within the landscape of CRM systems. It consists of a series of AI technologies cleverly integrated to make the Customer Success Platform work faster and better. This also makes AI available to Start-ups and Scale-ups!
What makes Salesforce Einstein different?
Einstein is different from other AI modules in CRM systems. These are the main benefits for when you start using Einstein:
Salesforce Einstein is Data-ready. No data preparation and management models required. Just put the data into Salesforce and it works.
Salesforce Einstein is Modeling-ready. Multitenant, automated machine learning means that the right model is automatically made suitable for your organization.
Salesforce Einstein is Production-ready. No DevOps required. It is part of the same familiar Salesforce platform, with model management and monitoring tools.
This will make your CRM faster, easier and more fun to work with!
How does Salesforce Einstein work for my company?
Your Sales colleagues can anticipate follow-up opportunities and better respond to customer needs. The Service Department can solve new problems even before the customer has reported them. At Marketing, they can optimize personalized customer journeys and experiences like they've never been able to before. And your IT team everywhere can build in smart intelligence and even smarter apps for employees and customers, based on inferences from real data. Specifically, what does this mean? This is best explained with a practical example:
Upscalers B.V. has developed a genius app and is ready to take the world by storm with their innovation. To give them more control and take advantage of all the opportunities their scaling process brings, they are using Salesforce Einstein.
The website is an important lead generation tool. The Upscalers Marketing team uses Einstein Behavioral Scoring to analyze lead and customer interactions on the Web site. This enables them to create personalized campaigns in Google Ads and Social Media. A prospect (let's call him Edwin for the moment) sees the ad on Instagram and clicks through. The first time Edwin does not convert to a sale, but when he visits the website again and signs up for the email newsletter, his lead status is automatically promoted to Hot Lead by Einstein. The Sales Department of Upscalers B.V. uses Einstein Lead Scoring, seeing Edwin's interaction with their marketing tools and recognizing buying signals. At exactly the right time, they send him an offer too good to refuse, and Edwin decides to purchase the Upscalers App.
Edwin is very happy with the features the app offers him, but he wants to integrate the app into Microsoft Teams. No standard pairing is available yet, so he sends an email to the Service Department asking for a Teams pairing. The Service Department uses Einstein Case Classification to categorize and prioritize each service request. For example, Edwin's case is seen as an urgent request and as an opportunity for product development. This makes Edwin's question a priority. The Service staff cannot help Edwin directly with a standard link, but they have found a workaround so that Edwin (and any other user with the same question) can at least use the feature. And yet another satisfied customer leaves the Service Department.
Meanwhile, IT colleagues are seeing multiple searches on the website asking for integration with Microsoft Teams. They use Einstein Prediction Builder, which predicts to them that this application will become much more common. They are submitting a development proposal for on the roadmap of a new version of the Upscalers App, substantiated with data from the field.
IT staff also use Einstein Prediction Builder to make predictions about future events based on historical data. For example, if there have been system components that together led to a conflict in the software, they can take proactive steps to prevent potential problems and ensure a smoother rollout of the Upscalers App.
By using Einstein, you reduce the amount of repetitive and mind-numbing work and your team can do what energizes them. And that, in turn, energizes us! 😊
Availability of Salesforce Einstein
With Einstein, artificial intelligence in CRMs also becomes accessible to Start-ups and Scale-ups, but of course it also works for medium and large organizations. The more data is available, the more Einstein is going to deliver for you. Within Salesforce, Einstein is available through Sales Cloud, Service Cloud, Marketing Cloud, Salesforce Platform, Analytics Cloud and Community Cloud. It already works when you use just 1 module of Salesforce, but integrated with each other really puts the turbo on your productivity.
Einstein on mobile devices
All Salesforce modules that work on a smartphone also use Einstein directly (i.e., even if you work from your device). Currently, not all Einstein-driven modules work on a mobile device yet, but you can rest assured that this is being worked on hard.
Your data is safe with Salesforce Einstein
Already more than 150,000 companies from a variety of industries around the world rely on Salesforce because of its robust security architecture. Einstein is made on the same principles and with this, privacy and security of your information is guaranteed. If you want to read more about how Salesforce keeps data safe, visit trust.salesforce.com. Here you'll learn more about Salesforce's commitment to transparency, security, compliance, privacy and performance.
Salesforce Einstein integrate with other systems
The ultimate added value of a Salesforce Certified Partner like musQueteer, is the ability to smartly link to existing systems. We speak the language of your business, but are also seasoned IT professionals. Our developers write the missing code to make Salesforce work seamlessly with your existing applications. This is how we optimize your processes and help you achieve your goals faster and better.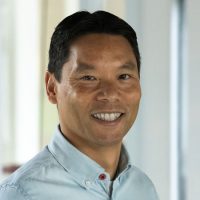 Want to learn more about Data Management Platforms, such as Salesforce? Then feel free to contact Woen Hing Woei, Founder and Consultant at musQueteer